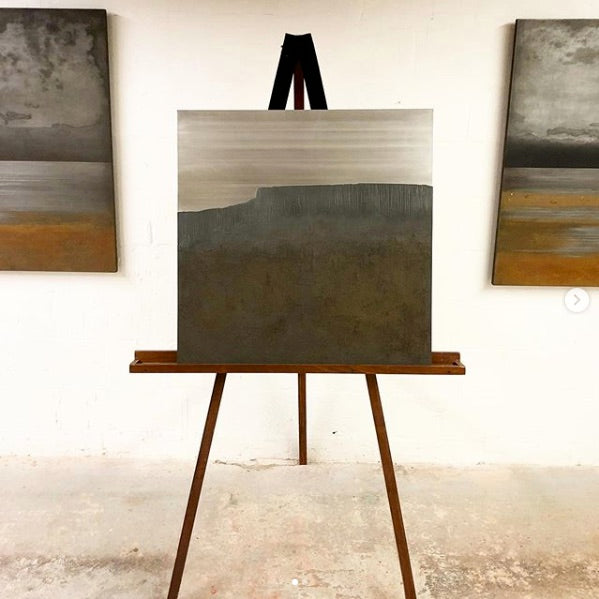 KRZYSZTOF PALONKA
Escarpment VII
30 x 30 inches
iron paint on wood board
2020
ARTIST STATEMENT

My work explores the relationship between the raw, permanent and rugged element of iron and the soft, delicate, ephemeral nature of landscapes. I have discovered the reflective, monochromatic properties of metal to be a powerful medium for depicting elements of natural scenery and the changes it undergoes over time.
To intensify my creative articulation, I employ the oxidation process, and combine patinas with burnishing techniques. No color tints or dyes of any kind are used in the execution of these pieces.
I pull inspiration from minimalism – and artists like Richard Serra, Agnes Martin and Hiroshi Sugimoto.
For the full experience, the viewer must move around the pieces, looking at them from different vantage points, with the reflecting light providing endless, subtly differing views. Nothing stays as is for very long.
I endeavour to keep this work conceptually connected to the natural landscape, and to the laws of physics and chemistry. Once the final polish is applied, ambient oxygen begins making its way into the iron paint and an unstoppable process of corrosion begins. Certain parts of the painting will change colours faster, more vividly, while others remain deceptively unchanged for the moment, but will slowly mark the passing of time through continual oxidization.
These works stand as a mutable metaphor for the continuous entropy and creative destruction – or is it destructive creation? – which nothing in our universe can escape.
---
Share
---
More from this artists